A Traditional Onsen Ryokan in the Center of Kinosaki
Kinosaki Onsen in Toyooka, Hyogo Prefecture, has a long history of over 1,400 years. It is a famous hot spring site with beautiful scenery of all the four seasons, with willows and cherry trees lining the Otani-gawa River, which runs through the center of the hot spring town. Touring the public bathhouses (soto-yu) in yukata and geta is one of the true charms of Kinosaki Onsen. Each of the seven public bathhouses has its own origin, history and guardian deity. It has long been believed that people who visit all seven bathhouses will gain seven kinds of good fortune. Shinonomesou is located in the central area of Kinosaki Onsen, just seven minutes' walk from Kinosaki Onsen Station, making it convenient to visit the bathhouses and stroll along the willow-fringed Otani-gawa River.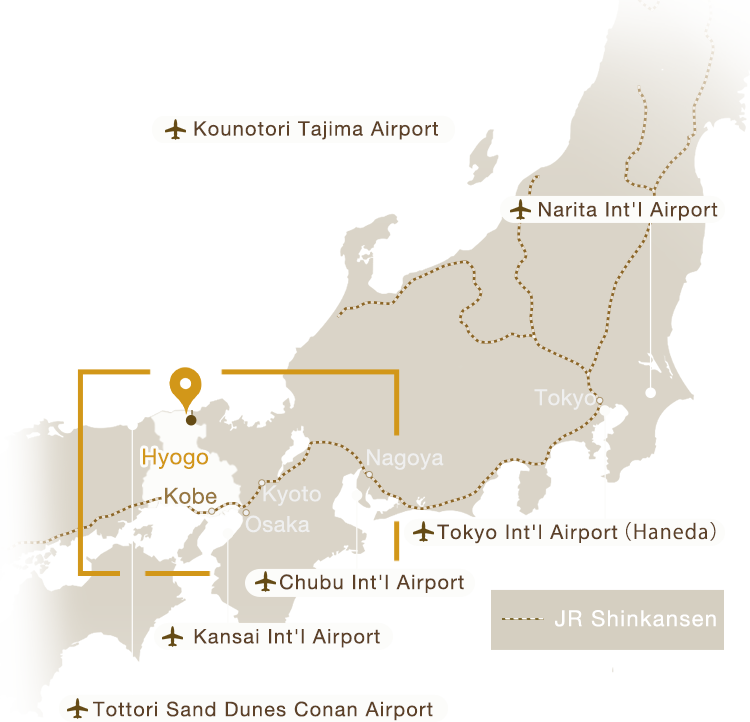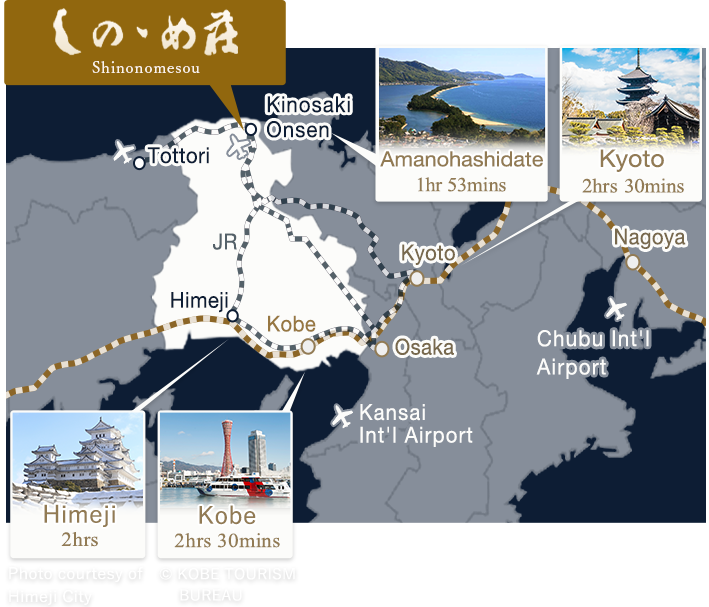 Click here for detailed access information
Kinosaki Onsen Map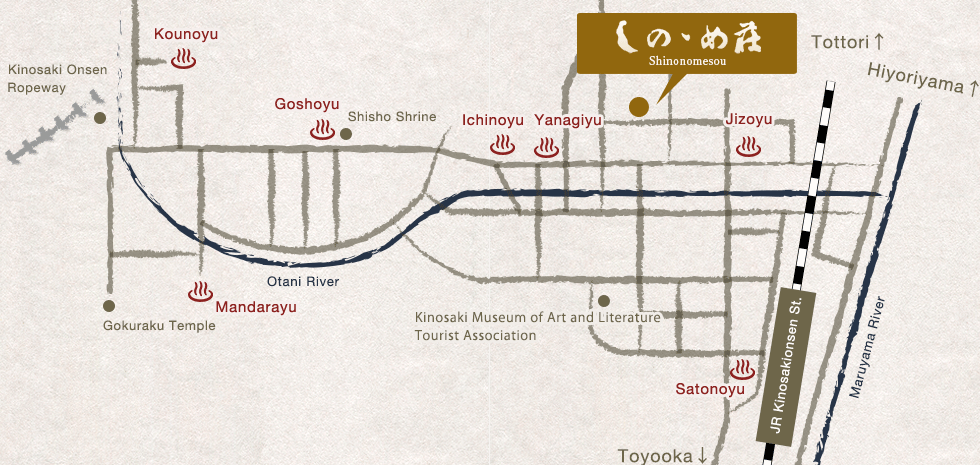 Kinosaki Onsen Hot Spring Town Official Site
Tourist Information
Kyoto Area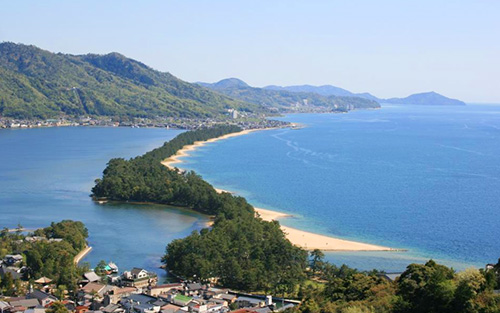 Amanohashidate Amanohashidate is located in the northern part of Kyoto Prefecture. We have a lot of information on sightseeing spots, restaurants, recommended routes and access on our website. Please check it out!
Kinosaki Area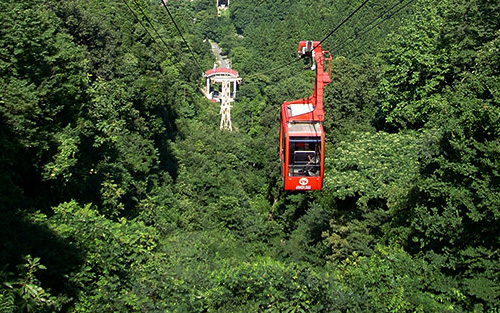 Kinosaki Onsen Ropeway Kinosaki Onsen Ropeway is one of the rare ropeways in Japan that has an intermediate station before reaching the summit station. The observatory by the summit station offers a panoramic view over the town of Kinosaki as well as the Sea of Japan.
Crabs -

Specialty of the Inn

Shinonomesou serves foods in season, which you can enjoy only in Kinosaki. Enjoy authentic Japanese cuisine such as the inn's specialty red snow crab (kasumi-gani) dishes and fresh seafood.

More Details
Traditional Japanese-Style Rooms
Shinonomesou has Japanese-style rooms only. Relax in the traditional Japanese-style room and enjoy warm Japanese hospitality.
We welcome our guests with all manner of services, such as seasonal flower arrangements in hallways and each room. Also we place a seasonal painting on a large folding screen upstairs. Please enjoy the beautiful Japanese painting.
More Details
Uchi-yu and Soto-yu (Public Baths Inside and Outside the Inn)
One of Shinonomesou's proud features is the Iwa-buro, a bath made with large rocks. Unwind in the bath and enjoy a different kind of bathing pleasure from that of the external public bathhouses. A private family bath is also available in the annex. For touring the public bathhouses, you have a variety of choices of women's yukatas. Strolling around in a very nice yukata of your choice will be one of the wonderful memories of your trip.
More Details
Hotel Information
Services

Baggage storage
Internet

Free!

WiFi is available in the lobby and is free of charge.
Parking

Free!

Free private parking is available on site (reservation is not needed).
Smoking

Smoking is not allowed.
Cards accepted at this property

VISA card, Mastercard.
Check-in / Check-out

From 2PM / Until 10:00 AM
Children and Extra Beds

Children are welcome.
Children older than 6: 70% of the price for an adult
Children under 6 (meals and bedding included) : 50% of the price for an adult
Children under 6 (meals included no bedding) : 2835yen
Children under 6 (bedding included no meals) : 3150yen
Children under 6 (no meals and no bedding) : free of charge
Pets

No pets are allowed to be brought in.
Health & Wellness Facilities

Bathhouse, Hot spring bath, Massage
Activities

Air conditioning, Shops, Heating, Family rooms
Other facilities

Japanese little garden